Tom Brady just won his fifth Super Bowl ring. He is the most successful quarterback in NFL history, he has what appears to be a perfect life, has more success than anyone can imagine, yet he is not loved by all. He is not seen by all as the best, and he is not the most popular player in NFL either.
Why not?
I was amazed yesterday online how everyone seemed to want the Atlanta Falcons to win. #Underdog seemed to be the hashtag of the day. I understand the desire for the underdog to win. Atlanta played well enough to win during the regular season and Sunday night's game.
When New England posted an epic overtime win, I was disappointed to see how many people said that Brady was a cheater and didn't deserve to win. People didn't seem to say that New England shouldn't have won, but that Brady shouldn't have won. I even saw statements on how the NFL is fixed, the rules were in Brady's favour, and that Russia helped decide the victory. Seriously?
Full disclosure here, I wanted Tom Brady and the New England Patriots to win. I wanted him to be the best quarterback the NFL has ever seen, but I was certainly in what appeared to be the minority.
It is human nature to be jealous of people who seem to have it all, and who make it look easy to do.
[ctt template="1″ link="tPO35″ via="yes" nofollow="yes"]"Jealousy is very normal" Are you the jealous type? follow:https://goo.gl/Pa59EX @RhondaScharf[/ctt]
People just don't cheer for the guy that has it all. He is too good looking, too smooth, too effective, and just too darned successful for some people to want him to succeed any more than he has.
And that my friends, is the reality of life, and it can affect you as well.
If you are the favourite at work, not everyone will like you. Some won't like you just because you do well professionally. Some will accuse you of doing unprofessional things to get your success. Many will say you didn't earn it; that you were just lucky, you were in the right place at the right time, that you are related to someone in power, or sleeping with the boss. Some will honestly believe that your hard work and effort are not why you are the favourite, or why you sell the most, or why you keep winning all the awards at work. Some will refuse to see that you are good at what you do.
It is human nature to be jealous of people who seem to have it all, and who make it look easy to do.
Tom Brady did make winning this Super Bowl ring look easy. He seemed to know exactly where to throw the football, when to run, and when to pass. We all realize that was an entire team effort and he certainly did not do it alone. His team was just as talented as he was to ensure they were in the right place to receive the pass, yet the team isn't the issue. Tom Brady is why most people don't like the New England Patriots.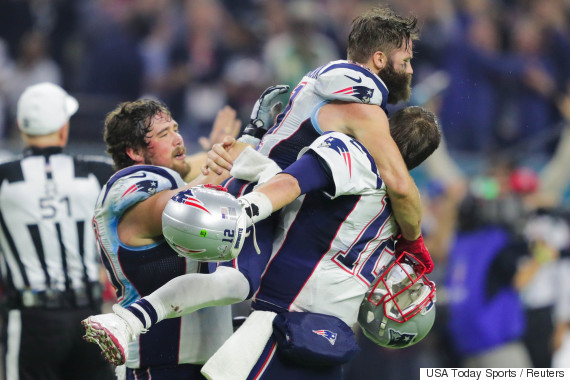 New England Patriots wide receiver Julian Edelman (11) and quarterback Tom Brady (12) celebrate their win over Atlanta Falcons during Super Bowl LI at NRG Stadium. The Patriots won 34-28. (Photo: Dan Powers/USA TODAY Sports)
Why don't people like him? Why do people show disdain for the top salesperson at work or the employee who gets the Employee of the Month award (repeatedly)?
Jealousy.
Certainly cheering for the underdog is just fine. Being disappointed your team didn't win is nothing to be ashamed of, but being nasty isn't required.
Ask yourself the following questions to ensure that you aren't letting jealousy cloud your vision:
Did you think and/or say anything nasty about the star player at work this week?
Was it a fair thought/statement or does it sound like you are jealous and being immature?
Would someone challenge you on your statement/thought if you shared it?
Does that though make you even sound jealous?
Do you wish you had their kind of success in your life?
[ctt template="1″ link="mPp2C" via="yes" nofollow="yes"]How do you feel about the star players at your work? read more on:https://goo.gl/Pa59EX @RhondaScharf[/ctt]
If you have always been a Falcon's fan, I wouldn't expect you to jump ship and cheer for the other team. If you were just picking one of the two teams to cheer for, why did you pick the team you picked or was your pick a default because of a dislike for the other team? Did it matter who New England was playing in the Super Bowl? Would you have cheered for the other team just because you don't like Brady?
Don't let your jealousy cloud your judgment at work. Appreciate all the talents people bring the table, and acknowledge when someone is just better than others.
Don't let ego, jealousy, and immaturity cloud your judgment or work, or on the football field.
As appeared in The Huffington Post February 2, 2017.
Article by,